Today, there was frost everywhere for the second time this year. Frost is beautiful, even if the temperature is not necessarily that pleasant. But it got me thinking about the way we receive the Holy Spirit in our lives.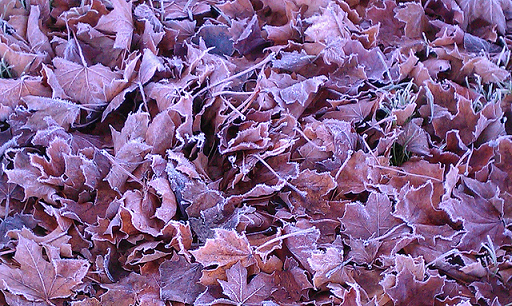 1. Frosted things are still the same things. The frosted leaf keeps its shape. Below the layer of frost, it remains the same leaf. When we are called to something, when we receive gifts, or inspiration, from the Holy Spirit, it does not make us completely different people. Rather, it is using our situation and our strengths and weaknesses. To find where your calling lies, identify your strengths and passions in your secular, everyday life.
2. The edges of frosted objects become more visible. In the same way, the Spirit highlights our uniqueness by pointing our out own gifts, our own specialness to others. Without the Spirit, we are indistinguishable  a mass of brown leaves where no one really knows where one ends and where the other starts. But that highlighting is the same for everyone: it is the same, one Spirit – and just the one Fruit of the Spirit that takes on many shapes: love, joy, peace, patience, kindness, goodness, faithfulness, gentleness, self-control.
3. Smooth surfaces don't tend to get frosted quite as much. If we were perfect, we wouldn't need the Holy Spirit in our lives as a comforter, nor as a guide. If we were saints, there would be no conviction of our sins. Not that we should sin to receive more of the Holy Spirit. But we should recognise that God can use our impurities, our imperfections, our own roughness; and that the same goes for our neighbour. Rather than pretending we are perfect, we are led to look at those areas in our lives which fall short, which are turned into something beautiful by the Spirit.
4. All are subjected to the frost. There is no way for things which are outside in damp weather and in sub-zero temperatures to avoid the thin layer of frozen water depositing on them. There is no way to reject the gifts of the Spirit, or its convictions. But there is a way to avoid them: stay inside, do not expose yourself to the world, to pain or to joy, do not interact with anyone. We can close our hearts to the Spirit, but then we close ourselves to a whole range of stuff too.
5. Frost is a response: snow can fall anywhere, because it is formed around dust motes. But frost is made up of ice crystals which are formed on the frosted surface. When we receive the Holy Spirit, we respond to it – and it is that response that we feel. The presence of God is everywhere, it is only our response that we feel in those special times when we talk about the presence of God.
6. Frost makes things shine when it thaws. The Spirit of God is good, and beautiful; but it is also meant to be released, not just taken in. To put it differently, if we were just receiving the Spirit, breathing it in, as it were, without breathing out, we'd become puffed up and, quite frankly, detestable to others. The fruit of the Spirit is something that is shared, and it is in sharing it that we become shining lights and bless others.