There's a very powerful and popular quote by A.W. Tozer (referenced, for instance, here) that goes like this:
"Christians don't tell lies – they just go to church and sing them."
Provocative, not politically correct, that much is certain. Whether it reflects reality is a different question.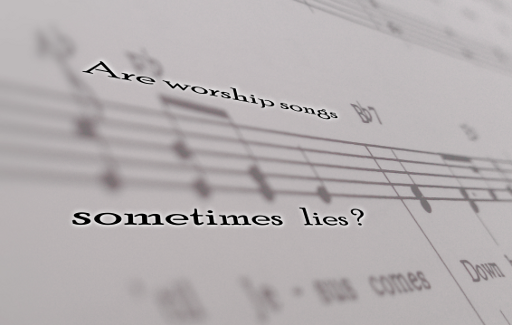 Yes, many of us will have sung "Here I raise my Ebenezer, hither by thy help I've come", without knowing what an Ebenezer is. I sure did. (by the way, Ebenezer means "stone of help", as in 1 Sam 7) – but is that a lie?
Let's go one step further. I used to have my own personal doubts about "Better is one day in your courts" – because it felt like rejecting our life here on earth. After talking to friends about it, I realise I wasn't understanding it properly and was more over-theologising than anything else. I still find it hard to sing "Break my heart for what breaks yours" – because I have some (limited) experience of that, and I'm not exactly looking forward to it. (Seriously, do you really want your heart broken?)
Whether because we don't understand it, or don't agree with it on theological or personal grounds, there are many reasons we can disagree with worship songs. Does it means I'm lying when I'm singing them?
It comes back to the nature of worship as an attitude. Worshipping Jesus means turning to him in humility and in love. Worship is both a direction and an attitude of humility. I'd say it's more of a lie, then, to pretend to be worshipping when all you're doing is picking and choosing theological statements, than to sing a line you don't quite understand.
Here's a few questions:
would you be quite so picky about singing Psalms? And if not, why not? *
do you think the Psalmist went back to his composition and made sure it was conforming to dogma?
Now I'm not saying we should undiscriminately accept all worship songs, or that there is no reflection to be done about them. However, when we are approaching our worship from the perspective of someone who is in control of what they sing… well, that's turning the whole worship process on its head. And it's missing the whole corporate aspect of worship. So even if you don't really believe or understand what you're singing, go back to it – talk to your pastor about it, inspect it in the light of the Gospel, do all of that. But do it after worship: don't approach worship with a suspicious mind which controls what it takes and rejects from what's on offer.
In more fancy words, dogma stems from doxology – not the other way around.
—
* Okay, I'm not saying the latest Hillsong album should be included in the canon. But unless you're being very cynical about the production of worship songs, you will generally admit these songs may have been written with the help of the Spirit.