Ecumenism is a big, scary word. Like predestination. Like transsubstantiation. Which means we can hide behind it. In an infamous Father Ted episode, Father Jack is taught to say "that's an ecumenical matter" to stop him from answering any question. At the heart of ecumenism, though, is a very important idea: Christian unity.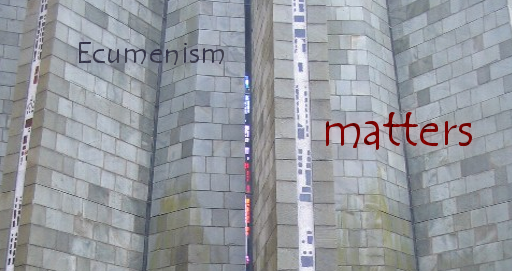 Photo: E Gammie, reused under CC license
At the heart is the idea that there is one catholic (little c!) and apostolic church. Any church that adheres to the Nicene creed should adhere to the idea of ecumenism.
Any organisation that holds to the Bible should adhere to the idea of ecumenism. Because if we don't, we are creating a culture of "us and them", a culture where the others are not in communion with us.
But here come a difficulty: ecumenism is generally understood as bridging the Roman Catholic/Protestant divide (at least in the West). But where do we draw the line? What's to stop us from being ecumenical with, say, Christadelphians, Mormons, and Jehovah's Witnesses? Aren't we drawing the same sort of line when we're considering some as non-Christians?
To answer this, I like to look at the liturgy used for the induction of a Catholic chaplain last week. It goes:
Will you acknowledge the richness and diversity of your individual Christian traditions? Will you seek to be more fully united in faith, communion, pastoral care and mission, only doing apart what cannot be done together? Will you, in obedience to the Word of God, pledge yourselves to seek and make visible the unity intended by Christ for His people?
The stakes appear to have been raised. It is unity "intended by Christ". No, Christ did not necessarily suggest there should be only one church organisation – the prayer in John 17 is that all Christians be one in Him. But what the liturgy says is that this unity needs to be made visible.
Indeed, one of the most mind-boggling questions people ask about Christianity is "why are there so many different denominations?" The multiplicity of churches to go to, the multiplicity of the details in doctrine, etc. impedes mission quite heavily. Because it means people look at the details* rather than at what is at the core of our being.
Don't get me wrong, ecumenism should not be just in order to show that we are together – it should stem from a real desire for Christian unity! That unity is between individual Christians, who are all one in Christ – and then moving up to organisations; rather than the opposite. But ecumenism does have a visible part. It is, beyond a nice fluffy feeling, something that we "do". The rest of the liturgy tells us more:
it is not an erasing of differences between different denominations. It is not being "non-denominational". Rather, it is embracing those differences and celebrating them – and beyond that, celebrating our unity around these differences.
it happens in all we do: mission, faith, communion, pastoral care. Only things that cannot be done together should be done apart (basically, holy communion rites or celebration of the saints). But in that way, ecumenism looks no different from what we normally do. That's probably what throws people who try to "do" ecumenical things – they are not special things to do; just normal things to do together.
This is where we can start to answer to the question of where ecumenism stops. Because in all we do as Christians, God is central. We do all these things not in our own strength, but relying, giving thanks and worshipping God. In order to be able to do so, we need to be worshipping, basically, the same God: the Triune God, Father, Son and Holy Spirit. As long as this happens, ecumenism is possible – more than that, it should happen and be visible. Just because we do things a bit differently, is no excuse for not being ecumenical.
"That would be an ecumenical matter" becomes, then, no excuse – rather, it turns into an impressively important matter, but also one that should flow naturally. After all, we do things together with people who believe in predestination – why not with Catholics too? ;-)
—
* Details can be important. Far be it from me to play down the importance of free will, or of how we see the Bible, etc. But doctrine is not at the centre of what we do – God is. (And yes, I realise that sentence is doctrinal in itself :-P )