God's mercy is something that we seek, often, in our prayers. It is etched within traditional liturgy, between the kyries and the misereres. We seek it when we confess our sins ("have mercy on us"), we rely on it in intercessionary prayers ("in your mercy").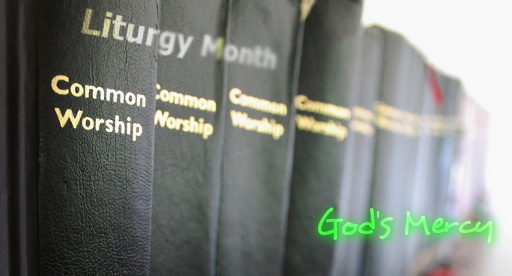 Photo: Charles Clegg, reused under CC license
These small words of liturgy have always been slightly difficult to me, because they reeked of false humility, and of false repentance. It felt like we were forcing ourselves to feel sorry and small, in that very very short window of time in the service; and that introspection itself was cut short by the prayer of absolution.
Worse than that, it seemed that I was only pretending that God's mercy was something I didn't deserve, because I knew that absolution was to come.
And I was doing it all wrong. The fact that the kyries jarred for me is, I believe, down to the wrong perspective I was adopting. That the confession was about me. About my sins.
While it's not hard to understand why I could think in that way (after all, we are invited to recollect our sins during that confession time); it's also easy to realise that this perspective is not consistent with our attitude during the rest of the service – of turning to God.
God who knows us (and thereby knows our sins, too), but God who is merciful, too. During the time of confession, we should not as much be focusing on our selves as we should be focusing on God's mercy. The only point of recollecting our sins is that they are collected, wrapped up in God's mercy.
Therefore, confession is not as much a matter of purging of sins (against some sort of virtual tally) as it is a matter of adoration and of turning to God. Therefore, it is not about humility, false repentance, or feeling sorry; and the feeling of inadequacy is uncalled for in this particular context.
When you seek God's mercy, know that God is merciful and that you can expect it. This will change your act of contrition into an act of worship.
—
Listen to the sermon on the topic here:
Audio clip: Adobe Flash Player (version 9 or above) is required to play this audio clip. Download the latest version here. You also need to have JavaScript enabled in your browser.
Download link (right click, hit download) – Notes