In our church, we use this piece of liturgy (which, apparently, comes from the Iona community):
Make our congregations places of radical discipleship, and signposts to heaven.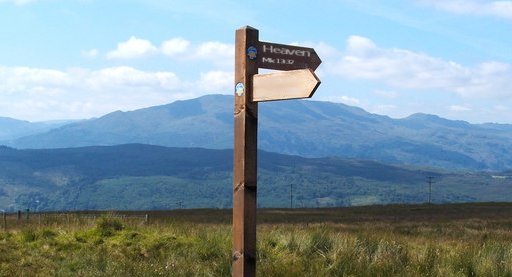 Photo: Lairich Rig, reused under CC License
Radical discipleship means at the same time more and less than what may be ascribed to it. But that's not what I want to focus on today; it's the second half: "signposts to heaven". I only recently realised the depth that this prayer contains. Here are a few thoughts on it:
Signposting means being visible. It means that our congregation needs to be put on a lampstand so that it is visible to others. Simply in being visible, we can be an encouragement to others, in the same way that a signpost on the side of the road can encourage people and let them know they are on the right track, and that the destination in fact exists and is known to the congregation.
Signposting is to somewhere. Far from being an end in itself, the church and the congregational aspect of church life in particular, is only a place to grow. If your going to church is simply part of a stable pattern – if you're not experiencing growth, then you might just be pausing at the signpost, catching your breath. And the signpost, the congregation, is a safe place to do so, because you will know which way to move from there. But if you're not expecting growth, then you may be doing it wrong.
Signposts have some information on them. There would be little point in having a signpost with simply a multitude of arrows (if even that!) without anything written on them. Just look at the photo: doesn't the arrow pointing towards us look odd? Let us be bold in proclaiming the coming of the Kingdom; and (to use another bit of the same piece of liturgy) in expectation that the best is yet to come, be truly Christ-like.
The signposts in the liturgy are to heaven. It means that our congregations should evoke heaven to people: that in our churches, people should be reminded of heaven. That means that God should be visible in the way we live: it's not just about being nice and spurring each other on to be better people, it's about becoming, congregationally, Christ-like and allowing Christ to shine through us.
A final thought on this issue: it is a prayer for congregations. It doesn't go Make us signposts to heaven, although that might also be a good prayer to say. It asks more, and demands less: it asks for unity in individual humility. It asks that together, we make up that signpost for others; and to do that, we all must point in the same direction. But it does not seek our own glorification as individual disciples, or demand that we get an instant revelation of heaven so that we can individually point in the right direction (and usher in those who clearly have had a distorted vision).
One thing's for sure, next time I say this prayer, it will have taken on a much deeper meaning.
Do you have a prayer you particularly like?