Forgiveness is at the heart of much Christian practice. Communion liturgy mentions it, as the blood of Christ washes our sin away. Some widespread evangelism strategies give it a prominent place, going something like this*:
We are all sinners and deserve the wrath of God.
Jesus took on our sin on the cross and bore the penalty for our sins.
We therefore stand justified and forgiven in the eyes of God.
The direct link between sin and justification makes it sound easy. It looks as though repentance automatically leads to forgiveness. And in a way, it does – because God's nature is always to have mercy. But it makes it look silly too. On its own, it's petty. Arrogant. Why would God want us to say sorry for our sins in order for them to be forgiven?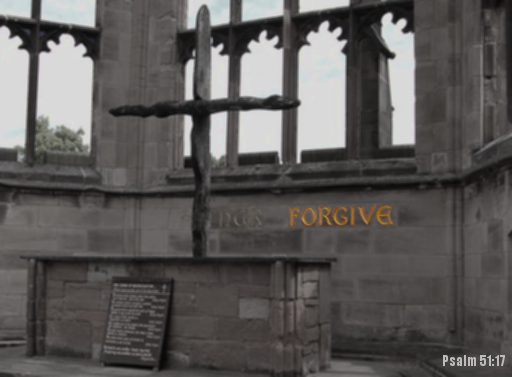 Photo: Roger Davies, reused under CC License
Behind this question, there is a double misconception: firstly, about the place of forgiveness in Christianity: we cannot think of sin or forgiveness without placing them in the context of God's incredible love for us – lest we make that forgiveness a mechanical thing. Secondly, a misconception as to what being sorry actually means.
When a woman who had lived a sinful life in that town learned that Jesus was eating at the Pharisee's house, she brought an alabaster jar of perfume, and as she stood behind him at his feet weeping, she began to wet his feet with her tears. Then she wiped them with her hair, kissed them and poured perfume on them.

(Luke 7:37-38 NIV)
Is that the attitude we take when we pray for forgiveness? When I realise my sin, I sometimes say "oops! Sorry God". The assurance of forgiveness makes me treat the grave matter of forgiveness and repentance very lightly. It is actually very rare for me to have that broken and contrite heart. But where that happens – when I do feel contrite, it feels too big to bring to God. Too big to be forgiven. This is the true conundrum of seeking Jesus's forgiveness: either the guarantee of forgiveness makes it so I don't come forward with a contrite spirit, or my contrite spirit stops me from coming forward. This is why the sinner in Luke 7 is weeping. This is why the prodigal son goes back to his father's as a hired servant. This is why the tax collector cries out in the temple: because they have all grasped the grave matter of their sin, and seek forgiveness without thinking they will get it. The reaction is overwhelming. The relief is great. From that relief, comes the joy of dwelling in Christ and true repentance.
I'm not arguing that we should make a show of being contrite. I don't think we have to weep to show true anguish or sorrow. I don't even think we should feel much anguish or sorrow. But we should not trivialise sin by making it commonplace (yes, we all do sin, in word thought or deed, but should we lump all our sin together?). In the same way that God is not a vending machine when it comes to petitionary prayer, He is not a vending machine when it comes to asking for forgiveness. Approach asking for forgiveness with humility and with a contrite heart, but also with the wisdom of the Psalmist who said
The sacrifices of God are a broken spirit;
a broken and contrite heart, O God, you will not despise.

(Psalm 51:17 ESV)
How do we do that? To be honest, I don't really know, and would be grateful for any pointers. All I can do is to turn to Jesus (rather than, as I often do, my own mind) as the convictor of my sin, and pray that the Holy Spirit create in me a contrite heart. Not for the sake of being sad – that would be stupid – but for the joy of being truly forgiven.
How do you seek God's forgiveness?
—
* It's easy to criticise any evangelism strategy; but that is not the point of this post. It would, after all, be too easy if I didn't offer anything to replace this approach (which I may attempt in a future post). The main purpose of this post is to reflect on forgiveness of sins – and even then, I only scratch the surface. What about our commission to forgive sins? What about sinning against the Holy Spirit? Sin and forgiveness are vast subjects which could (and do) fill up books! If you've got some to recommend, please let me know!