Last week, I wrote a post in which I highlighted the shift, in terms of focus, from nations to individuals between Old and New Testaments; in order to stress the importance of individual relationships rather than merely corporate ones. This week, I'm looking at the community aspect of Christianity.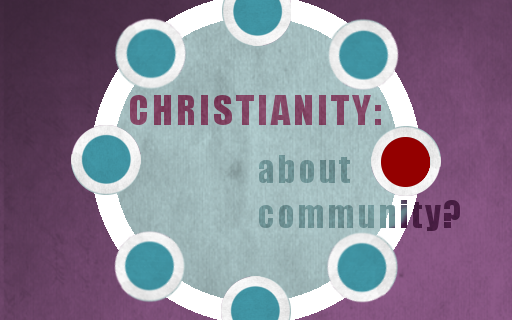 Background: adapted from GreatPaperWolf, reused under CC license.
No better way to start than quoting a comment from last week:
The reformation, while rightly seeking to distance itself from the then overtly controlling religiosity of the Catholic church may have taken a step too far in their emphasis of individual salvation and personal faith.
As it is eloquently put, matters of individual/corporate nature of faith are matters of emphasis. Individual salvation and personal faith are Biblical. In fact, the picture painted in Luke 17 goes a long way to show that simply being with those who are saved is no guarantee of salvation. But this is "only" an eschatological matter.
Practice of faith is an altogether different matter. Have you ever noticed the following verse:
For when two or three gather in my name, there I am with them.

Matthew 18:20 (NIV)
It is usually read as "there is no need for massive congregations to worship", but it is two or three – not one: there is no talk of individual worship. Of course, there are other moments where, say, individual prayer is commended; but it is clear that community is important.
After all, all-consuming, all-pervasive relationships are at the heart of the Trinity. On top of that, Peter was anointed to build a church – and though the meaning of church may have evolved over the centuries; originally, it seems to me that this all-consuming, all-pervasiveness was present: ἐκκλησία, generally translated as church or assembly, but which etymology could mean "called out of", is used in the singular. Out of the many who are called, the church of Christ is, in its very substance one. That alone should be enough to ignite our passion for ecumenism (although ecumenism in itself is another subject).
The early church modelled this community way of life by pooling all their resources, and by remaining inextricably linked even when they were not geographically co-present. There is an incredibly powerful sense of acting congregationally whenever Paul exhorts us to pray for all the saints (something that might be missed out because of the power of what comes before it!).
These elements, I feel, are far more powerful than the practical ones. The advantages of communal prayer, or the description of the Church as one body are helpful to convince oneself that it is worth doing; but let us not forget in this description that the Church is not just one body: it is the body of Christ.
From the perspective of the in-up-out triangle (1), then, the sense of community coming before the individual is very strong in the in and the up vertices of the triangle. Very importantly, these all-pervasive links between individuals which form the assembly are involving us: we are part of them. It isn't like a different organisation we can distance ourselves from: we are intrinsically in the church.
But we haven't seen that happen in the out vertex. Of course, the vertices of the triangle are not independent; so there will be elements of community shining through in our outreach. And we will do it with the support of our community. But the other whom we are reaching out to is not a community nearly as much as it is individuals; and this should not be forgotten.
—
(1) Yes, I have used Lifeshapes. I feel dirty now. But for those of you who don't know it, it is about the direction of growth both for local churches and for individuals: in (fellowship, discipleship, etc.), up (looking towards God, worship, etc.) and out (outreach, evangelism, social justice, etc.)