If you've ever redecorated, you'll probably have had to go through the tedious experience of removing the garish wallpaper left by the previous tenants or by yourself. In many ways, this is like getting rid of sin: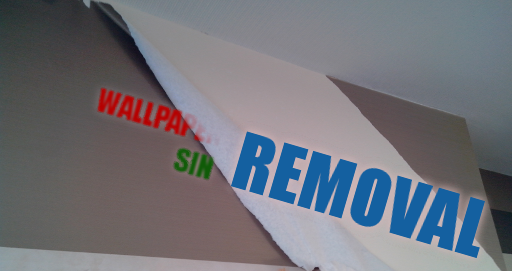 1. Some of the wallpaper you remove will have been left as an inheritance: not all of it is a result of your own personal poor taste. However, blaming it on the previous owners/tenants will not mean it's not there: it needs to be removed even if it's not there through your own fault.
2. In some spots, the old wallpaper may come away very easily in huge strips. Yet in other spots, you need to use the scraper and work at it more. It would be rather pointless to only remove the wallpaper where it comes off easily. There are some obvious habits that are easier to get rid of than others.
3. In those particular spots where the old wallpaper had been too well glued, it comes away little bit by little bit, through repetitive motion. It's a slow process and it can be tiring and frustrating, especially when you don't see the results coming in as fast as they did when that huge pane just came off. But while progress is less visible, it is still there and you gotta keep at it.
4. It is greatly helped by the application of water. But simply applying water, with no resolve to then apply the scraper, is rather useless. This application can come in a variety of forms (steamer, sponge…) which are sufficient to the removal of the stubborn wallpaper.
5. It is easier to do with outside help – friends, family, professionals. Yet this does not mean that you should go into other people's homes and strip their wallpaper without their say-so, no matter how well-meaning you might be!
6. The whole process is made far more enjoyable with an ample supply of tea. (Come on, this is Ed's Slipper after all). More seriously, though, removing wallpaper does not have to be sad and solemn: friends, music, conversation: all these can help!
7. Getting rid of the old wallpaper shows the wall to be bare and rough and imperfect. It can reveal some deeply hidden secrets, some glorious, some shameful, and some we weren't even aware of. If the wall had feelings, it probably would feel exposed and vulnerable.
8. This bare state is not an end in itself: it is preparation for the application of new wallpaper – for a new identity. But it is necessary to remove the old – and to remove it thoroughly – before the new can come in and stick. Otherwise it's no more than a facade!
9. Once the old wallpaper is removed, there is no point in keeping the strippings as though you were going to reapply them! The old wallpaper is gone, once and for all: no point being sentimental about it!
10. It is a process that is easy to put off until "you have time to deal with it", or until "you have the right equipment". So enough with spiritual procrastination already!