My good friend Ben, a pastor who blogs over here, and who does weird things like sending me coffee, has just released a book! It's a short and easy read full of wisdom. In it, Ben's passion for small groups really shows and it made me realise just how powerful small groups can and should be. It's also full of practical advice for  potential leaders and coordinators.
If you're interested in buying this book (it is a bargain at $5.18 – just over £3!), follow this link – or go to the book's website for more info and access to free bonus content.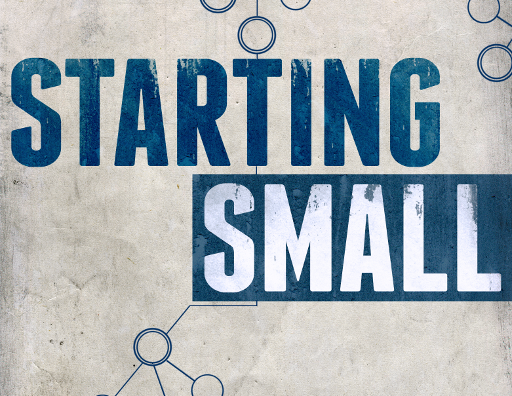 Ben has been kind enough to answer some questions about his book and about small groups in general – here they are!
In the book, you give strategies to coordinate the launch of small groups and some tips for small groups themselves. Who's the intended audience of the book? Small group leaders, or coordinators of lots of small groups at church level, or an altogether different group of people?
It's all of the above. Really, it's anyone who wants to improve the health and effectiveness of their small group, or their overall church's strategy for launching, and sustaining, small group health. Small group leaders, small group pastors, lead pastors, education directors, and apprentice/not-yet leaders would benefit from it.
In one sentence, how do you want this book to impact its readers?
I want them to feel the weight of exhilarating possibility and responsibility placed on them by God to steward the gift of community.
How big/small can small groups be? What's the magic number?
I don't know if there's a magic number that fits every person exactly. It kind of depends on what the group leader's comfortable with. I find myself comfortable in a room of 18-22. Others find it hard to connect in a group larger than 12. My best guess is that there's a happy medium between 12-18.
But we call a small group any group of 3 or more people that meets to study the Scriptures and seek God together
Deep relationships of mutual trust seem to be the staple of small groups. Should the seeds of that trust be present before the small group launches, or are they created in the small group?
I know it seems counterintuitive, but more often than not, the groups that start where everyone "knows" each other don't tend to do as well as the groups that form with random people. There seems to be some sort of desperation present in groups of "random" folks that just isn't there when people have known each other for longer periods before joining a group together.
Seeds of trust can be present. But they absolutely don't have to be. Small groups create and nurture trust as people step out in faith and choose authenticity and vulnerability rather than masking their story, heartache, failures, and victories.
Why is it important for small groups to have a limited lifetime (you suggest a mix of 12-24 month alongside some shorter-term ones)?
Most group's life cycle runs 12-18 months. After that time, a group is typically so comfortable together that it's time to think critically about spinning out a few different groups.
A byproduct of healthy community is an inward focus. Which isn't necessarily bad. But over time, this inward focus seems to dominate.
Take the example of the ingrown toe nail. At first, it doesn't seem so bad. You may not even notice it. But give that toe nail a few months, and it starts to hurt. 6 months later, you've got to have surgery. But if you'd taken care of it the first time you noticed it, pain and frustration could've been avoided.
Groups naturally turn inwards. And that's not a bad thing. But allowing that inwardness to dominate is where sickness comes in.
Are small groups only for people already attending church?
Absolutely not! Small groups are a fantastic way to reach out to your community. It's a tougher sell to get someone to step a foot inside the walls of the church you attend…it's much easier to get them to step into your home to eat a meal and discuss faith issues. Because you've built a relationship with them…and the Church has only corrupted their view of God. At least their public perception of the Church has done that.
How big are the churches you have worked in, and do you think your blueprint translates to smaller settings?
I've been on staff in churches that run 70 on Sunday mornings, that run 1500 on Sunday mornings, and that run 8000 on Sunday mornings. Small groups work at each church unbelievably effectively. Because as long as you have more than 2 people, you can have a small group!
Also, the early, New Testament church was historically a bunch of smaller house churches. Because of government restrictions (public martyrdom), it was difficult to have a huge mega church. But some how, they still found a way to, day by day, attend the temple courts and break bread in homes. (Acts 2:46) Through this, we're told that God added to their number daily.
One group of 3 becomes a group of 6, if everyone invites one other person. Which becomes a group of 12 if that happens again. It's exponential growth. You should know that, right? You're a math nerd. :) [note to Ben: in proper English, it's "maths"]
You keep on telling us that small group members shouldn't be passive information-soakers – that we should "develop contributors, not customers". How do we, practically, achieve that?
You start developing this culture through the leader. Instead of setting up leaders to be "teachers" in the sense that they're the keepers of the information, and the one who answers all of the questions because they're the "expert," the leader should value group discussion and collaboration.
If the leader feels the need to be the first to answer every question, the first to say the "right" answer, and the first to come up with every "good" idea, your community will be a soaking, rather than a contributing, community.
I help leaders value varying gifts in their small group, and share the responsibility of leadership, rather than hoarding that gift. As they share responsibility, they help others take ownership.
I think you've missed out a great tool for fellowship-making: tea. How do you explain such an oversight?
Jesus drank coffee, not tea. Just read your Bible. It's in there. :)
You mention small group series called "temple archaeology" and "42 weeks through the book of Esther" – these sound thrilling. Where can I find them?
I hope you can never, ever find them. Please, Lord Jesus, don't let them ever hit the shelves. :) [note: readers, if you're interested in those series, just tell me in a comment. No? Just me then?]
What makes small groups "unsafe"?
What's "unsafe" about small groups? Your sin. Your comfort. Your "easy" life. Your "clean" life. Your "clean" hands. Not caring about people.
Small groups throw you right into the middle of real life ministry. And there's nothing safe or easy about that.
But it's so, so good.