I recently read a couple of books on ordained ministry. The more modern ones, and the blogs I read, have rightly identified leadership as a key skill and a key task ministers will have. It is something I've found difficult to reconcile with the representative role of the minister, which seems to seep through every part of their ministry. Leadership, after all, is a highly secular term and can happen independently. Until it hit me:
Christian leadership is not simply leadership in a Christian context. It's not even some form of new and improved "Leadership+". It is intrinsically different, because the greatest commandment is this:
"'Love the Lord your God with all your heart and with all your soul and with all your mind.' This is the first and greatest commandment.And the second is like it: 'Love your neighbour as yourself.'"
(Matthew 22:37-38)
Crucially, the Great Commission comes after this. What this means is that our leadership and teaching needs to happen in this context and this way. The first point is obvious, but sometimes needs reminding in a world where skills are increasingly labelled and compartmentalised: God sets the course, not us. However we might lead, we strive to do so as representatives of God. Secondly, in Christian leadership, we cannot afford not to treat people holistically in all circumstances. When teaching, when leading, we need to consider them as the same as when we're counseling.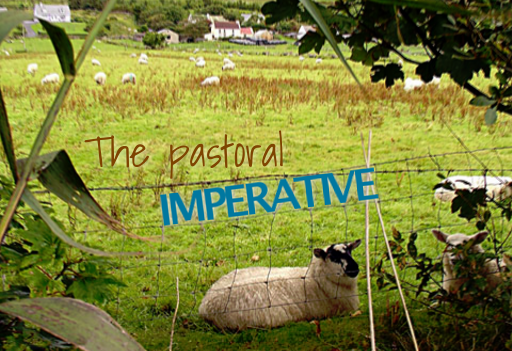 Photo by Linda Bailey, reused under CC license
Sermons are not dissociated from the rest of church life. People don't suddenly become empty vessels, ready and anonymous receivers. When preaching God's love for them, there is a need to make sure that the entire congregation is understanding that; and if there are some who are at a stage in their life where they cannot respond to it, the minister cannot afford not to find them, through that sermon or through another means.
This pastoral imperative is not restrained to specific times or tasks – it has to permeate the life of the minister.
Crucially, though, pastoral care does not mean sugarcoating the truth, or leaving people comfortably sitting where they are. For one, we are not setting the agenda – God is. But let us also remember that being a pastor, i.e. a shepherd, includes leading sheep from one patch to another. Being pastoral means being a leader.
How do you (practically) integrate teaching and pastoral care?
When and why did we start dissociating leadership from pastoral-ness?