As Christmas is coming very, very soon, we all tend to look back to stories of Nativity. Jesus was born in a manger, in a stable because there was no space at the inn.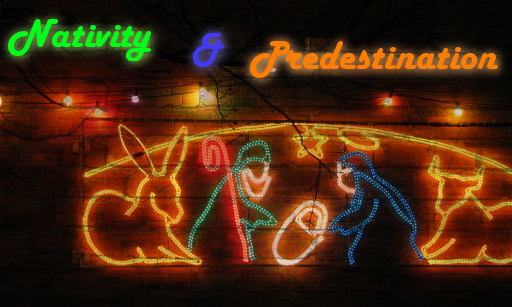 Photo – Evelyn Simak, reused under CC license
Surprising? Let's ignore the historical elements for a bit, and go with the culturally overwhelming view: many people had gone back to Bethlehem for the census, and poor Mary and Joseph did not book ahead because, obviously, they had no smartphone to do so (seriously, how did they cope?). Still surprising – and of all the places that God could choose to be born in, why choose that specific time and place?
The easiest interpretation is to go for the poverty argument: Jesus, siding with the poor and coming to dwell with us, should also dwell with the poor. Simples, makes sense. Except he then goes on to receive Kingly gifts… Ah, the contrasts of Christianity! But that is for another post altogether.
So there is still some surprise. Let us, still imagining the inn as an ancient day Travelodge, suppose there was room at the inn. Joseph (or Mary!) would have given some money and stayed at the inn. He would have been entitled to stay. It would have been a contractual relationship: one where he receives shelter in exchange for money.
That they were allowed to stay in the stable is extra-contractual. It comes as a freewill offering of whomever the stable belongs to: in short, Joseph and Mary weren't entitled to stay the night there, yet they did. Welcoming the Incarnate God was not forced upon anyone; rather, it was the outcome of a free decision.
The situation may be worse, however. See, as I found out while researching for this post, there was (probably) no inn; rather, Luke was talking about a guest room.
The word κατάλυμα, seemingly, refers to a guest room; whereas inns involving payment are referred to with a different word (πανδοχεῖον). A common interpretation is that Joseph, returning to his hometown, had relatives there who could (and should!) lodge them all. So what happened? We're just told there was no room in the guest room. Admittedly, the possibility remains that Joseph had siblings (we don't know about them!), and that they also came back, thereby filling up the guest room. But it seems unlikely that it was so full there was no space at all for Joseph and Mary; especially considering the greater need of a pregnant woman (although that may be a modern Western view).
What this means is that Joseph's relatives (let us assume) came up with an excuse not to welcome them in, and allowed them, possibly grudgingly, to stay downstairs with the animals. After all, Mary had conceived outside of wedlock, and well-to-do villagers could not possibly allow an unmarried pregger in. So they did the very minimum they could do and allowed them to stay at arm's length, with the animals.
Rejected, scorned by the ones who should have welcomed him. It's not a matter of making the positive choice to accept Jesus into the kataluma; it's a matter of actually refusing to do what we were elected to do, refusing to welcome him into our hearts, minds and souls. That grace may not be irresistible, does not allow us to boast in receiving it, because it is still undeserved and our response is what we ought to do anyway.

Just like Joseph's relatives, we'd need  an excuse. We find that easily. We say, sometimes, that there is no room for religion, no room for prayer, no room for a relationship in our lives – or that we're not ready; but that sometime, maybe, we might take the time to look into that. I wonder, what our excuses are sometimes, and whether we make sure there is room nor just in our mind, but also in our heart and soul.
Do we allow Jesus into our stable or do we let him in to our innermost?