As you will know if you're a regular reader of this blog, I delivered my first sermon last Sunday. I am incredibly grateful to all who prayed for me on that occasion; and I'll reiterate that it went really well.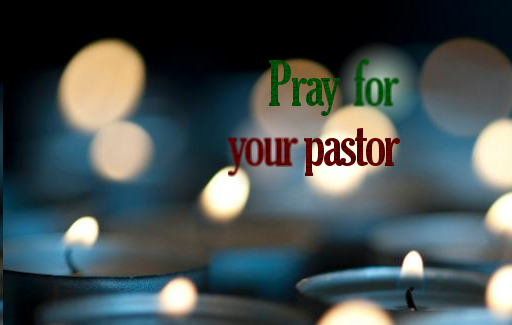 Photo taken from christmasstockimages.com, reused under CC License
Up until last week, whenever I read or heard "pray for your pastor", I would never think much of it. I'm not sure what my excuses were; but I think that deep down I was thinking a combination of the following four things:
The preacher is more qualified than me. He will pray before preaching. That prayer will be better than mine.
The preacher will get the inspiration of the Holy Spirit anyway. There's no need to pray.
That's his job, for which he has been trained; he does not need any prayer in the first place
That's for Sunday. Pleeeeeeenty of time.
These are the most insidious of arguments, because they each hold a tiny nugget of truth. That makes them ring "true-ish"; and makes them all the easier to use as excuses. But each of these arguments is also twisted. Let's go through them again:
The preacher has some level of qualifications; and yes, he will pray before preaching (as well as, hopefully, through the week!). It does not mean that his prayer is better than yours. On the contrary, writing a sermon is no easy task; and it comes with its burdens, stresses, and feelings of low self-esteem. These may impede the preacher's prayers for his own sermon: for instance, he may feel like he should have done a bit more preparation and he can't present that work to God (that would be stupid, but stressed people do stupid things). Then your prayer is truly needed; and the knowledge that he is prayed for makes the preacher bolder in his own sermon-writing.
The Holy Spirit will inspire the preacher. But that does not supersede the need for prayer (or preparation). There is a famous joke about a young curate who, every week, spent hours preparing his sermons. He was mocked by a very Pentecostal colleague who told him "I only wait to hear from the Spirit". Enthused by the idea, our young curate decides to try it out. The  next week, when they meet, the Pentecostal colleague asks: "So, did the Spirit speak to you? What did He say?" The curate answers "Yes. He said 'you've been very lazy this week'."
Hopefully, the preacher has undergone some form of formal training. It will generally be the case; and where not, he should receive some form of support by those who are trained. But no training can fully prepare for the sharing of the living Word – or else, that Word becomes dead; and preaching merely a mix of manipulation and of teaching of old doctrine. Only through prayer can we ensure that what the preacher says will genuinely touch the hearts and minds of the congregation.
The sermon will be delivered on Sunday. It will, generally, have been written beforehand. Especially in the case of someone preaching for the first time, this will take place days, nay, weeks in advance. Prayer is necessary at all stages of the sermon-crafting, up to the delivery and even beyond that. Additionally, as I'm sure you'll find, Sunday isn't that far around the corner.
So pray for your pastor. Pray for his health, his energy, his drive, the inspiration of the Holy Spirit – through the week. Pray that he may be a true imitator of Christ, and that he inspire you to be, in turn, imitators of Christ. Pray that he may move you, challenge you, and speak words relevant to you and to the rest of the congregation. Pray that he may move himself, and be once again reminded with great awe of his own nature as a beloved child before God.
What's your excuse? What will your prayer be?
—
Note: given recent news about female episcopate, it might be worth saying that, in the above article and, I'm sure, in many places through the blog, I have used the masculine as a generic term. It is not a theological statement! In this case, the preacher is a "he", but might as well be a "she". I find dual writing "he or she" tedious and cumbersome for the reader as well as for the writer; and abhor the abbreviation "s/he". The plural sometimes works, it felt very odd to use it here. So if your pastor is female, I will leave it to you, reader, to make the appropriate substitutions!