Today, I gave my first sermon ever, in the university Chaplaincy at Warwick. A fairly daunting experience, but I'll get back to that later (probably next week), but ultimately an amazing one. So this week, I thought I'd share the sermon here.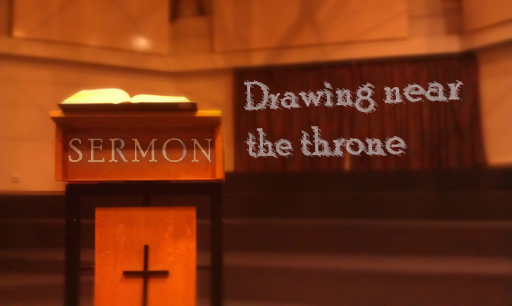 The readings it is based on are Mark 13:1-8 and Hebrews 10:1-14 and 19-25. Here, you can find a downloadable version of my notes, and you can also listen to the recorded sermon here:
Audio clip: Adobe Flash Player (version 9 or above) is required to play this audio clip. Download the latest version here. You also need to have JavaScript enabled in your browser.
At 1,200 words, it is a relatively short sermon (by evangelical standards if not necessarily by Anglican standards), but it would be an exceptionally long blog post, so here is a quick run-down of what I said.
—
It is easy to focus on what we do: on the fact that we go to church, that we pray, that we hang out with friends, etc. Regardless of the type of action that we focus on (even if it's the action of others whom we  identify with), that becomes what we boast in, but also what we rely on: it becomes the temple that the disciple is telling Jesus about in Mark 13:1.
In doing that, we are, in some way, choosing what God should be well-pleased with. We are coming to God, yes – but on our own terms, isolating certain areas of our lives that we wish to show off to Jesus. And, as he retorts, this is all vanity.
Thankfully, our actions are not what give us salvation, or what makes the Father well-pleased. That means that, equally, they do not condemn us. Thinking that we are doing things in order to please God in our own strength; or that if we sin or, worse (!), do not show up at Bible study, we will be bringing shame to the name of Jesus – thinking that is futile. And it flies in the face of Jesus's continuing work of intercession.
See, in the same way that, because we are in Jesus, we can ourselves call God "Abba", "Father" – in that very same way, because we are in Jesus, when God looks upon us, it is his Son he sees. Therefore, in him, God is well-pleased with us. And we can therefore draw near the throne, not trusting in our own righteousness or in our own strength, but knowing that God sees Jesus in us.
When we come to Jesus, we can stop looking at the past to justify us, we can stop trying to show ourselves up to God. We can do like Zacchaeus, and allow Jesus's transformative power show in exclaiming all that he will do. That's how the "Therefore" in Hebrews 10:19 works: because of the sacrifice made once and for all, we can draw near the throne.
But drawing near the throne without listening would be pointless. We need to consider, as Paul says, how the work of Jesus transforms us. We need to reflect on how our lives have been changed; to feel part of God's family; and finally, to look to Jesus as our perfect reflection, which keeps on spurring us on to good.
And we need to remember that it is not only ourselves who are allowed to draw near the throne in Jesus, but also anyone who believes in him. We must see Jesus in others, and see that they have just as much justification to draw near the throne as we do. Then, let us reflect that unity in keeping on meeting together, and loving one another.