This is the first guest post on this blog! It's written by my friend Dorian. He is a kids worker at a North London church and studying Applied Theology with Moorlands college. In his spare time he enjoys recreational mathematics (don't we all?), and usually mixes up American and British spelling. If you'd like to contribute a guest post, get in touch at contact@edsslipper.net
Theologians have given lots of different opinions about what Jesus meant when he said "whoever does not receive the Kingdom of God as a little child will never enter it". Most of them have talked about the importance of imitating certain childlike qualities; and interestingly, they usually talk about the importance of imitating the qualities that society of the day finds desirable in a child.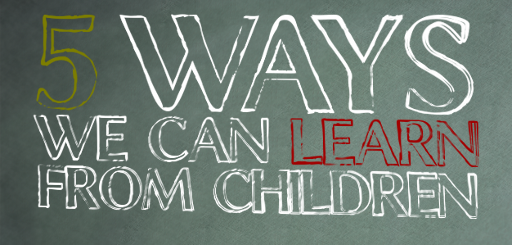 Rather than debating over which child-like qualities Jesus might have been talking about, I suggest actually learning from the children themselves. Here are five ways I'd suggest we can do so:
1. Learning as you teach children.
In order to pass on knowledge, you must first know what you wish to pass on! I've found that teaching in Kids church is a great way to to really learn yourself. The preparation needed to speak on a passage in a way that is both meaningful and simple enough for kids to understand is a challenging and rewarding way to learn.
Ok, so technically this isn't learning directly from children, but it is seeking to learn as you teach. which brings us to:
2. Learning from the questions children ask
A good teacher lets their pupils ask questions, and children are great at asking. Children don't have as much of a developed world-view as adults, so they are much quicker to notice discrepancies between teachings and actions, and ask questions that adults are afraid to ask.
Check out the story of David and Goliath in 1 Samuel 17: all of Israel was encamped against the Philistine army, but were too terrified to move against them. David, acting as a delivery boy for his brothers spots what's going on, and asks the question "Who is this uncircumcised Philistine that he should defy the armies of the living God?" David, the youngest son of Jesse, had seen how the way the Israelite army was behaving, i.e. cowering in fear, was contrary to their belief that God himself went before the army to guarantee their victory.
By their questions children can have a prophetic voice, challenging the practices of the church, and pointing out where teachings don't match up with actions, often because adults have become desensitized to the message.
Don't be afraid of the questions children ask, but be willing to be challenged, and be willing to seek answers and learn.
3. Listening to their faith
Children often have a simple, yet powerful faith that adults can learn from. Check out 2 Kings 5. A important general was plagued by leprosy, and it was the passing comment of his wife's Israelite servant girl that eventually led to his healing. This girl's simple faith statement: "If only my lord were with the prophet who is in Samaria! He would cure him of his leprosy" was listened to and acted upon, which ended up influencing the fate of entire nations, and bringing this general to know the Lord.
Children aren't afraid to say what they know to be true. Neither should we be.
4. Learn from their mistakes
The Bible frequently calls believers in Christ "children of God", and in a lot of ways our behaviour toward God is very childish.
One time when I was working in an orphanage, two girls had been taken out of their families and placed in our care. They had been in the children's home for a very short time, when one night, during a thunderstorm they ran away. Thankfully the next morning they were found, though shivering cold and soaked to the bone.
I was quick to judge these girls, wondering why on earth they would run away from a place of safety and protection, into the darkness and a town they didn't know, and during a thunderstorm no less! But the more I reflected on this incident, the more I began to see my relationship with God in a new light. How many times have I run away from Him, seeking my own way rather than the safety and protection He provides? These girls showed me how important it is to trust God, even when I don't know what's going on, and reminded me to repent for the times I have tried to live life by my own rules rather than His.
5. Learn from how children receive grace
The flip side of the story I just told, is how the two girls came accept the orphanage as their home. Even though they messed up big-time when they ran away, they realized that they were forgiven, and then sought with open arms to receive all the orphanage gave them. An adult who has been given a meal would want to repay this, either with money at restaurant, or by a gift or with reciprocity if invited round to a friend's for dinner. But children usually aren't able to repay what is given to them.
We could never repay our parents, or whoever in our childhood were the important adult figures were, for all the time effort and love they poured into raising us. And we could never repay our heavenly Father for the gifts he has lavished on us, especially not Jesus' sacrifice for us. Instead, we are asked to freely receive his abundant grace, and live as best we can to the way he taught us. Children can show us how to accept a gift freely given.
—
If you want to know what Jesus meant we he said we should receive the Kingdom of God like a child, then I encourage you to spend time with children! Volunteering to help with Kid's Church (or Sunday School, Kidz Klub, or whatever it's called at your church) is one really great way to grow in your faith. Just remember that as much as you go to teach and serve, you also go to learn how to receive God's Kingdom as a child.