I get on really well with my students. As I was describing my interactions with them to a friend and colleague a few weeks back, he told me I seemed to be "one of the lads": jokes are exchanged gladly (so long, of course, as they are not distracting from learning for too long!); I try and share their interests, and they return the favour: some have even started to follow Stoke City!
Of course, even when trying to build a very close rapport with my students, I remain at all times their teacher. I am called on to both teach them mathematics and to bring order to the classroom. Depending on the class, balancing a relaxed atmosphere and effective teaching may be a difficult line to walk: if the students don't have the maturity to understand that having a "nice" teacher does not excuse them from both behaving and doing the required work, things are going to go sour quickly. Either I would have to put my foot down (which is extremely difficult to do after a time of relative laxity), or the class would descend into mayhem, and I would no longer have any authority. Thankfully, this year, I had really great students who could get on both with me and my horrible puns, and with their work.
Building a good rapport is both enjoyable and a worthy end in itself; but it is also extremely important for other reasons. Firstly, it makes the lessons far more enjoyable – for teacher and students alike! Secondly, it supports learning and lets students feel they can come forward and ask questions without feeling out of place.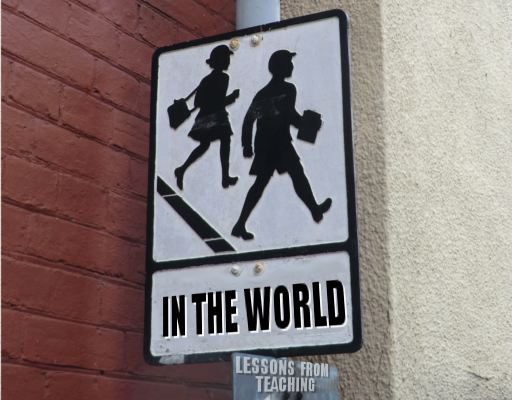 Photo: Wikimedia user Dmvward, under CC license
As Christians, we have heard on a variety of occasions that we should be "in the world, but not of the world". Yet it seems like liberals insist on being in the world and are criticised for following its whims; while conservatives insist on being not of the world, on living lives without associating with improper behaviours, etc. Of course, these are wild exaggerations. Not everyone is either a frantic liberal or a stuck-up conservative; most fall somewhere in the middle.
But rather than being "in the world, but not of the world", we tend to go from one to the other: intensely "in the world" on a Thursday evening and "not of the world" on a Sunday morning; or conversely. Alternatively, we are "in the world" when it comes to stewardship of the world, but "not of the world" when it comes to approaches to sexuality (or, again, conversely). But we rarely comprehend it, let alone live it out. And this is where the analogy from teaching comes in:
Not being of the world is, at its core, a matter of identity. Being the teacher in all circumstances, even through the jokes. Being Christian at our innermost, regardless of what we discuss or what we do. That identity appears in all our interactions.
That identity stems from authority – an authority we must be confident in. Teachers know that students will exploit the slightest hesitation – and once that happens, we have pretty much lost the classroom, and must hide behind an authority we do not hold.
That authority comes from without. Behind every teacher, the school institution and the parents are there to support and when necessary discipline the students. We have to remember that we are not going it alone, that we are in fact sent out to be salt for the world, and that we are equipped and supported in our endeavours.
Being in the world does not mean looking down on it from lofty mountain tops. It does not mean simply going to soup cafés (although that is worthy on other accounts!), it does not mean Bible-bashing the downcast. It means investing a true interest in the things they are interested in. It means true empathy with all.
Still, being in the world does not imply partaking in all its dubious activities. Engaging with people does not turn us into yes men! Rather, we ought to remain on our guard and make sure we are not using "being in the world" as an excuse for simply doing whatever we want.
"In the world, not of the world" does not mean detachment. It does not mean workplace evangelism – because our faith goes beyond evangelism! It means living out Christian lives, truly caring for those around us and getting to really know them, their lives and their dreams.