The other week, I got assaulted on the street in France (from behind, of course). There was no discernible purpose behind the attack: nothing was stolen; I did not know the guy who did it, and was not doing anything particularly provocative. To this day, I am puzzled as to why the incident happened.
Once the shock had gone, my initial reaction was that I should forgive him. I found it quite difficult to do. There is a reason for that: forgiveness can only happen after judgement. Otherwise, the sin that we forgive is trivialised; and our behaviour becomes an open invitation for  repeated offences. And us Christians have grown, it seems, shy of judging others.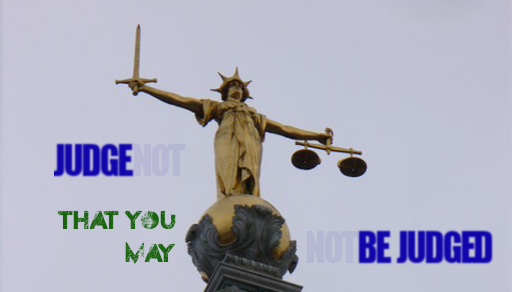 Photo: Colin Smith, reused under CC license
"Judge not, that you be not judged" has become a mantra that gets brought up whenever we are tempted to rebuke someone. Yes, it is Biblical. But when we do restrain ourselves using only that verse, we:
are still judging; we are simply refusing to voice that judgement.
are distancing ourselves from our neighbour, by adding that screen of hypocritical non-judgementalism between us. We, in a way, refuse to accept our neighbour holistically, that is, as their entire person.
are turning a blind eye on sin, which ultimately makes it easier to turn a blind eye on our own sin.
are making real forgiveness impossible. And yet, we should "forgive, that we may be forgiven."
Far, far more importantly, if we aren't judged and convicted of our sin, we cannot experience the liberating feeling of forgiveness, from which we can grow. That's why in other parts of the Bible, we are instructed to rebuke.
From that perspective, and with the assurance of forgiveness, I do want to be judged. If I'm "doing it wrong"; or if I have some ink on my forehead (from someone stamping it…) and I haven't noticed it is still there, I would like someone to tell me. I would like someone to judge me.
That's why the use of finality (for Hellenists out there, the fact ἵνα μὴ is used rather than καὶ μὴ … καὶ μὴ, as in Luke) puzzles me. Why would I want to not be judged? And Luke's distinction between judging and condemning indicates that it isn't just about sentencing (which would preclude forgiveness). But that very distinction also suggests that the key to that verse may be in what we mean by "judge".
The Greek used here is κρίνω. It is associated with notions of separating (e.g., the wheat from the chaff), of arranging and ordering. This form of judgement is one that divides, and one that is objective rather than interpersonal. When criticising others, we are placing ourselves above them, and indeed forgetting that we cannot throw the first stone. But there is a different form of judgement: a form of rebuking which stems from love. That form of judgement we should not shun, because only through it can we reach forgiveness.
But if we are passing that judgement, then we should allow the process to come to its complete end, with forgiveness; rather than stopping halfway through judgement in shyness because we "should not judge".
Judgement without forgiveness is sterile.
Forgiveness without judgement is futile.